Magnasine by Enerdrive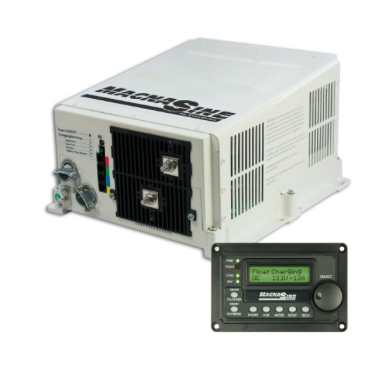 Features:
The Magnasine by Enerdrive products are designed and produced in the USA utilizing a tried and proven robust design platform, by a leading manufacturer of premium inverter/chargers for Mobile and Renewable Energy applications. With more than 70 years of combined inverter manufacturing and design experience, which has resulted in the MagnaSine by Enerdrive range being one of the industry's most reliable and advanced inverter/chargers.
Install the ME series in four easy steps:
Simply connect the inverter's output to your distribution circuits or electrical panel, connect your shore power cable (AC) to the inverter's easy-to-reach terminal block, connect the batteries, and switch on the power.
USA Made and Proven Design
Massive Inverter Surge Capacity
High Output Charging
Easy to Install
ME-RC Remote Control
The ME-RC remote control allows you to monitor and customize the operating parameters to your MagnaSine inverter/charger.
The ME-RC50 comes standard with a 50 foot, 4-conductor (twisted-pair) telephone cable and includes non-volatile memory (preserves adjustable settings, even if power to the remote or inverter is removed). The MagnaSine remote control has all of the programming and operation functions included in an easy-to-use package.
ME-RC displays:
Battery Voltage
Inverting
Battery Charging Status
Inverter Charger operating status and warnings
DC Load Amps, DC Amps Consumed and State of Charge (if ME-BMK is being used)
Using the ME-RC Remote Control, you can program:
Charging algorithm of the batteries
Battery Capacity
Battery Charge Efficiency Factor
Mains Current Limiter
Charging Rate
Mains AC Drop Out and Cut In
Power Save
Search Watts
Low Battery Cut Out
Click Here to view and download the Magnasine Inverter by Enerdrive brochure